How Can I Reduce My Use of Bottled Water?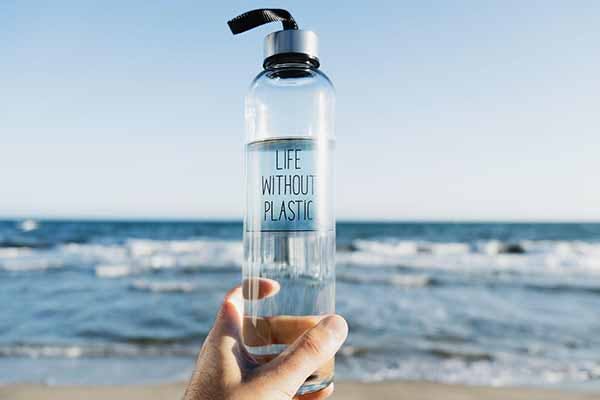 source
You may be wondering how you can consume enough bottles of water without polluting the planet with copious amounts of plastic. As previously mentioned, a person weighing 130 pounds would need to drink about four bottles of water a day. That adds up to 1,460 plastic water bottles per year that eventually would end up in landfills or oceans.  
While you're bound to feel good about taking care of your health, your self-esteem could take a hit just from the sheer shame of adding to your carbon footprint. In addition to that, you'll be inadvertently affecting your health by affecting the health of the planet.  
Not to worry. There are a few eco-friendly solutions that you can implement to help ensure your health and that of Mother Earth.  
Get a Reusable Water Bottle  
We recommend investing in a quality reusable water bottle that you can refill with fresh, cold water throughout the day.  
There are hundreds of options on the market, and depending on your preferences, you should be able to find one that perfectly suits your needs.  
Stainless steel insulated water bottles help keep your water cold all day. The benefit of drinking cold water is that your resting energy expenditure can increase by nearly 30% for up to an hour after drinking it. That means you burn calories just by enjoying a cold drink of water. 
From flip-top caps or built-in straws to bottles with carrier handles and even built-in rotating hydration meters, the sky's the limit when it comes to choosing the perfect water bottle for you.  
In fact, why not get a few? Keep a bottle by your bedside, one on your desk, and another in your car to refill throughout the day, every day.  
There are hundreds of water bottle brands out there that will do the job of helping you stay eco-friendly and hydrated. 
Opt for a Water Filtration System 
Installing a home water filtration system will improve your drinking water's overall purity, taste, and smell. It can also lower the pH level of the water that you drink. The best part, though, is that you always have clean, filtered water at your fingertips; this allows you to refill your eco-friendly water bottles throughout the day. 
You can choose a point-of-use system that places the filtration equipment underneath your sink, or you can go with a whole-house water filtration system so that your water is filtered and safe no matter where you're getting it from.  
Not only does a water filtration system purify your water from contaminants, but it also can soften it, eliminating the need for an additional water softening system. Some common contaminating chemicals in your water may include chloramine, ammonia, fluoride, or pesticides, among other things.  
Recycle Your Plastic  
Now and then, we all find ourselves compelled to buy bottled water. Perhaps you're out and about running errands or traveling, and you just can't take along your water from home.  
The happy news for our planet is that we can reuse plastic by simply doing our part to sort our trash and recycle plastic, paper, glass, and aluminum.
Stay Hydrated With Filtered Water in an Eco-Friendly Bottle 
There is such a thing as drinking too much water, which can cause hyponatremia (overhydration). So, stick to the recommended amounts. And do your part for your body and planet by using a reusable water bottle and getting your water from a clean source, like a good water filtration system.  
Want to learn more about which kind of system may be best for you? Reach out and talk to one of our specialists today.  
Brought to you by homewater.com
All images licensed from Adobe Stock.
Featured Image